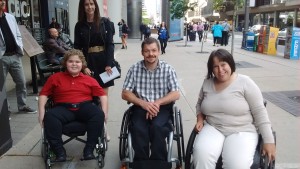 Loretta Davis who for the last 12 years has embraced ParaSport opportunities in Niagara. She is one of those unique and hard to find people that you turn to when things need to get done.
In the fall of 2012, Loretta became the Penguins Boccia coach. She learned all about the sport, including equipment, space, rules, opportunities and classification.
Loretta takes this voluntary position very seriously. She plans novel and creative games for all practices, engaging all athletes and volunteers. She contacts other boccia coaches to learn more about the sport, attends tournaments and clinics with her athletes, and organizes local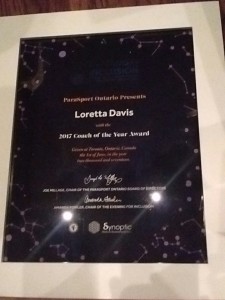 games and tournaments.
Her 8 athletes use head and foot switches to release the ball, use sign language and assistive devices to communicate, and some are medically fragile, which changes their training abilities each week. Loretta is a quiet and sensitive person, making her an excellent coach, respected by all.
If there was ever a Parasport coach who deserves Coach of the Year, for not only what she has done and developed, but for the potential she has and her athletes will have, with her as their leader, it is Loretta Davis.
Congratulations Loretta for winning the Coach of the Year Award.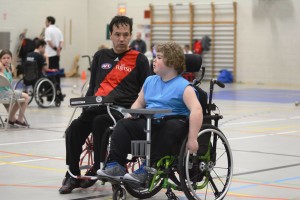 This 14 year old A.N. Myer high school student, is Joshua Gautier. He has been playing boccia for 3 years and has recently started to compete in tournament throughout Ontario and Quebec. He has won a total of 6 medals in a very short period of time.
Gold in Montreal
Bronze in Laval
Silver at Ontario Provincials – This silver was his first real competition that was outside the Niagara region, so it was an extraordinary accomplishment.
Bronze – Whitby
Silver – U15 in Montreal
Gold – Brantford ParaSport Winter Games
I am sure you can see the excitement in Josh's future in boccia!
Josh currently attends practice once a week and trains at home for 4 hours a day with family and friends and during school with his teachers and vice-principal.
He aspires to make Team Ontario, where his only barrier is that he is too young! He needs to be 15 years old to compete.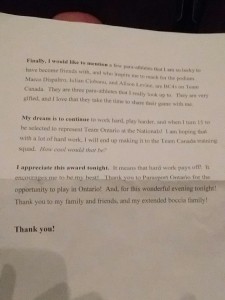 Josh can be a fiery competitor, taking the sport very seriously while still having fun along the way. He never gives up, always keeps trying and never lets his disability become a barrier to participating.
He is a great role model for the other youth athletes on the team by attending practices early, being serious during them and respecting coaching staff and other players.
Congratulations Joshua for winning the Rookie of the Year Award.