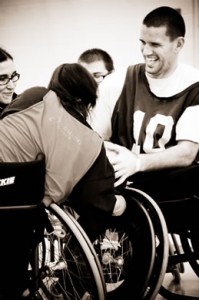 Penguins are ready to start their 11th year in September 2016. A competitive and house league wheelchair basketball program, swim team and swim program and a Paralympic boccia team are being offered in the fall program. Please check the calendar (right side) for program dates and events.
2016-17 Applications for new and returning athletes and volunteers are now available in the Register and How You Can Help upper tab. We encourage new athletes to contact us and come out to try at any time !
Please read the Volunteer Description and Athlete Code of Conduct and New Eligibility Criteria in the above tabs.  Fall Newsletters for Athletes and Volunteers are available for download.
Learn more about us
See our photos
Register for a program
Find out about upcoming events
Learn how you can help by volunteering or donating
Contact us
Follow us here on this website and on our twitter account @niagarapenguins !